Alia Lion

Lion performing in 2015 in Vershando.
Born
Alia Levenöburko
29 November 1988
Kesa, Lashardia
Occupation
Singer, songwriter, DJ, musician, record producer
Musical Career
Genres
Electronic
Instruments
Vocals, guitar, bass, drums, keyboard, synthesizer
Years active
2003–present
Labels
Love In Stereo
Alia Janeta Levenöburko (born 29 November 1988), better known by her stage name Alia Lion, is a Lashardian singer, songwriter, DJ, musician, and record producer.
Life and career
Edit
Early life
Edit
Lion was born as Alia Levenöburko on 29 November 1988 in Kesa, Nortensland. Her father Leven worked as an engineer while her mother Steffa was a chemist. She has an older sister named Talya, and the family was upper-middle class. Lion has described herself as the "black sheep" of the family.
She attended primary school in Kesa and struggled, often getting in trouble in school. After graduating from primary school in 2003 she ran away to Ubenmoor without her parents knowing to pursue a career in music.
Lion struggled as a musician at first, even being homeless for a period of time. She worked a number of "odd jobs" to support herself while performing as a musician and DJ at clubs.
2010–2012: ShadowszEdit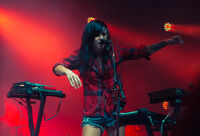 In 2010, Lion was signed to Love In Stereo Records and began work on her debut studio album. She became the first electronic artist to be signed to the label, primarily focused on rock and alternative music.
Her debut single "Ice" was released in 2011 and achieved moderate chart success, reaching the Top 50 of the Lashardian singles chart. Her debut album Shadowsz was released the same year, and peaked within the Top 10 of the Lashardian albums chart.
2012–2014: OrigamiEdit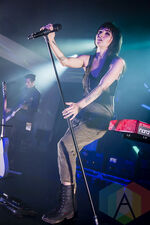 Lion began work on her second studio album in 2012. The album, later revealed to be titled Origami was written and produced entirely by Lion. The lead single "Giants" was released in 2013, and became Lion's best performing single, reaching the Top 5 of Lashardia's singles chart.
Origami was released the following year, and reached number-six on the Lashardian albums chart. The album also produced the singles "Tiptoes" and "Tight Rope". Origami received rave reviews from critics and placed in many "Best Albums of the Year" lists by critics.
2014–present: ShapeshiftazzzEdit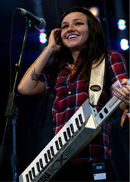 Shortly after the release of Origami, Lion revealed she was eager to begin work on her third studio album and that production would start shortly. Like its predecessor, the album would be written and produced entirely by Lion.
In an interview in early 2015, she revealed that the album would be titled Shapeshiftazzz. The album's lead single "Invincible" was released the same year, and peaked within the Top 10 of Lashardia's singles chart. The album also produced the songs "Scream My Name" and "Dead and Gone". The album reached number-two on the Lashardian albums chart, becoming her best performing album of all-time.
She took part in Mösikalifestivali 2016 with the song "Flesh Without Blood". She won her semi-final and went on to place third in the final.
Personal life
Edit
Lion resides in Jorden, Ubenmoor in an apartment with her close friend and fellow musician Matelda Hanköjons. She has stated her stage name stems from her childhood nickname "Alia Mö" ("Alia Lion", in English), due to her love for lions.
Discography
Edit
Studio albums
Edit
List of studio albums, with selected chart positions, sales figures and certifications
Year
Title
Album details
Peak chart positions
Certifications
LAS
2011
Shadowsz

Label: Love In Stereo
Format: Digital download, CD, LP

10
2014
Origami

Label: Love In Stereo
Format: Digital download, CD, LP

6
2015
Shapeshiftazzz

Label: Love In Stereo
Format: Digital download, CD, LP

2
List of singles as lead artist, with selected chart positions and certifications, showing year released and album name
Title
Year
Peak chart positions
Certifications
Album
LAS
"Ice"
2011
37
Shadowsz
"Giants"
2013
4
Origami
"Tiptoes"
2014
64
"Tight Rope"
10
"Invincible"
2015
6
Shapeshiftazzz
"Scream My Name"
10
"Dead and Gone"
11
"Flesh Without Blood"
2016
2
Mösikalifestivali 2016
Awards and nominations
Edit
Year
Event
Category
Nominated work
Result
2011
Lashardian Music Awards
Breakout Artist
—
Nominated
2014
Lashardian Music Awards
Best Experimental Album
Origami
Won
Best Experimental Song
"Giants"
Nominated
Best Female Artist
—
Nominated
LRI Song of the Year
Song of the Year
"Invincible"
Nominated
2015
Lashardian Music Awards
Best Experimental Song
"Invincible"
Won
Best Experimental Album
Shapeshiftazzz
Won