Anastasia Pricharcha

Pricharcha in 2010
Born
Anastasia Pricharcha
30 September 1975
Vershando, Lashardia
Occupation
Recording artist, model, actress
Alma mater
Queen Maria's School for the Performing Arts
Spouse
Art Lavorg (2003–present)
Children
Jena Artölavorg (b. 2004)
Red Artölavorg (b. 2006)
Musical Career
Genres
Lashpop, R&B, dance
Instruments
Vocals
Years active
1995–present
Labels
Akai Music Group
Anastasia Lille Pricharcha (born 30 September 1975) is a Lashardian recording artist, model, and actress.
Pricharcha first made a name for herself in the late-1990s, becoming the first musician of Pesan descent to have a number-one single on the Lashardian singles chart. Her debut album, Thinking About You, released in 1998 catapulted her into superstardom.
Life and career
Edit
Early life
Edit
Anastasia Pricharcha was born on 30 September 1975 in Vershando, Mortasland. Her parents Vito and Monika came to Lashardia from Santa Anastasia, Pesa following the 1969 coup d'état. Her father worked as a pediatrician while her mother was a plastic surgeon. The family was upper class. She was named Anastasia, after her parents' hometown, and was an only child.
Pricharcha attended primary school in Vershando, and experienced bullying from other students due to her darker skin and Pesan ancestry. She did well in primary school, particularly in mathematics and science. After graduating, she began attending a mathematics and natural sciences high school in Vershando with a specialization in veterinary medicine.
However, she dropped out in her first year after realizing she wanted to pursue a career in music. She subsequently moved to Ubenmoor and began attending Queen Maria's School for the Performing Arts, which she graduated from in 1994. Following her graduation, she began performing as a musician professionally, working as a wedding singer, nightclub entertainer, and lounge singer.
1995–1998: Career beginnings and Thinking About YouEdit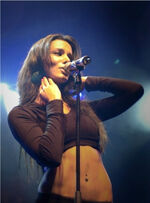 In 1995, after being seen by a producer performing at a lounge in Hoffmann, Ubenmoor, Pricharcha signed a recording contract with Akai Music Group worth over $1 million. She began work on her debut studio album immediately.
In 1997, her debut single titled "Thinking About You" was released, fusing Lashpop, R&B, and 90s dance music. The single was a massive success, reaching number-one in five countries and charting in two others. Her debut album of the same name was released the following year, and was certified 6x platinum in Lashardia.
Pricharcha became the first musician of Pesan descent to have a number-one hit in Lashardia, and also became the first musician ever to win both the Breakout Artist and Artist of the Year awards in the same year at the Lashardian Music Awards.
Thinking About You also produced the hit singles "Beg, Borrow, and Steal" and "Ready for Love". Pricharcha embarked on a pan-Asmatic tour promoting Thinking About You which sold-out every show within minutes.
1998–2003: Battle Scars and continued successEdit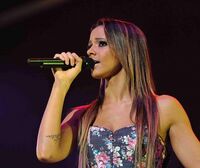 Pricharcha began recording music for her second studio album. While speaking about the album, she stated in a 1999 interview "This album is much more Lashpop and dance orientated than the first one. I'm sort've in the process of truly developing my style and I think this is a step in the right direction".
The album's lead single "Whatever" was released in 2001 and was a huge success. The album, titled Battle Scars was later released a year later, and achieved similar feats as her debut. The album also produced the hit singles "Breathe", "Sweet Nothings", and "So Close".
2003–2008: Close Your Eyes and Light Up the NightEdit
Pricharcha returned to the recording studio to begin work on her third studio album following her marriage in 2003. After giving birth to her daughter the next year, she paused work for a brief period, before returning several months later. She stated that the album was heavily inspired by her new family.
The album, Close Your Eyes was released in 2006 and was preceded by the lead single "Unconditionally". The single and album charted less than Pricharcha's previous work, but this was highly credited to the cancelation of many promotional events due to her turbulent pregnancy with her second child. The album also contained the singles "Close Your Eyes" and "Goodnight".
Following the birth of her son in 2006, she began work on a fourth studio album. In a 2006 interview, she stated "Now that I'm a mom of two and in my 30s, I'm kinda calming down my image. Yes the album is still gonna be fun and colorful, but there's not gonna be any songs about sex, or drinking, or clubbing. I'm grown up and over all that stuff now".
Her fourth studio album Light Up the Night was released in 2007, and was preceded by the lead single "Criminal". Both the single and album charted significantly higher than Pricharcha's previous efforts. The album also contained the hit singles "Quicksand" and "On Top of the World".
2008–2013: The Shadowboxer and FreakEdit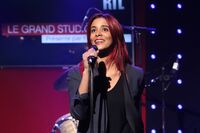 In 2009, it was announced that Pricharcha would be making her acting debut in a leading role in the Lashardian musical drama film The Shadowboxer (also known as Lemekaja, in Lashardian). She also was confirmed to be contributing to the film's soundtrack. In the film she portrayed Darcia Alarcha, an experienced musician who must mentor an up and coming singer to stardom.
The film was released in 2010 and was generally panned by critics, but was well-received by viewers, placing first in the box office for one month. Following the film's release, Pricharcha revealed that work on her fifth studio album had begun.
The album's lead single "Seeing Stars" was released in 2012, to moderate chart success. The album, titled Freak, was inspired by the bullying Pricharcha had experienced in school. It was released the same year and reached number-one on the Lashardian albums chart. It produced the singles "Heartache" and "Let Go", which also charted moderately.
2013–present: Queen of My DesiresEdit
Pricharcha revealed that her sixth studio album would be her "last for a few years", due to wanting to put her family as her top priority. The album, titled Queen of My Desires was released in 2014. It contained the singles "Play Dead" and "Kings & Queens". She was inducted into the Lashardian Music Hall of Fame in 2014.
She took part in Mösikalifestivali 2016 along with Malisa and Monika Radöbark with the song "Bendat". They won their semi-final and went on to place fourth in the final.
Personal life
Edit
Pricharcha is of mixed Pesan descent and identifies as a Muslim. She speaks fluent Pesan, Lashardian, and English, and has citizenship to Lashardia and Pesa. In spring 2003 she married Pesan-Lashardian lawyer Art Lavorg. They had their first child, Jena, in 2004 and their second child, Red, in 2006. The family lives in Hoffmann, Ubenmoor and also owns property in Port of Lashardia, Pesa.
Pricharcha is an animal rights activist, and has been a vegan since she was 14 years old. Her and her family own three rescue dogs, and in 2005 she posed nude as a part of PETA Asmatys' "I'd rather go naked than wear fur" campaign.
Discography
Edit
Studio albums
Edit
List of studio albums, with selected chart positions, sales figures and certifications
Year
Title
Album details
Peak chart positions
Certifications
LAS
ADR
CON
SOD
PES
ZAK
POP
ILM
1998
Thinking About You

Label: Akai Music Group
Format: CD, LP

1
1
1
1
1
4
–
3

LAS: 6x platinum
ADR: 4x platinum
CON: 4x platinum
PES: 5x platinum

2002
Battle Scars

Label: Akai Music Group
Format: Digital download, CD, LP

1
1
3
1
9
10
–
6

LAS: 4x platinum
ADR: 3x platinum
CON: Platinum
PES: 5x platinum

2006
Close Your Eyes

Label: Akai Music Group
Format: Digital download, CD, LP

5
8
12
3
48
–
–
–

LAS: Platinum
ADR: Gold
PES: 2x platinum

2007
Light Up the Night

Label: Akai Music Group
Format: Digital download, CD, LP

1
1
2
1
–
–
1
–

LAS: 4x platinum
ADR: 4x platinum
CON: 2x platinum
PES: 4x platinum

2010
The Shadowboxer: The Soundtrack

Label: Lashardia Films International
Format: Digital download, CD, LP

10
38
99
11
–
–
–
–
2012
Freak

Label: Akai Music Group
Format: Digital download, CD, LP

1
3
5
1
–
–
2
–

LAS: 3x platinum
ADR: Platinum
CON: Gold
PES: 3x platinum

2014
Queen of My Desires

Label: Akai Music Group
Format: Digital download, CD, LP

3
6
9
2
–
–
3
–

LAS: Platinum
ADR: Gold
PES: Platinum
List of singles as lead artist, with selected chart positions and certifications, showing year released and album name
Title
Year
Peak chart positions
Certifications
Album
LAS
ADR
CON
SOD
PES
ZAK
POP
ILM
"Thinking About You"
1997
1
1
1
1
1
2
–
6

LAS: 5x platinum
ADR: 5x platinum
CON: 5x platinum
PES: Diamond

Thinking About You
"Beg, Borrow, and Steal"
1998
1
7
10
9
1
15
–
27

LAS: 5x platinum
ADR: Platinum
CON: Gold
PES: 5x platinum

"Ready for Love"
1
5
8
10
1
78
–
98

LAS: 3x platinum
ADR: 2x platinum
CON: Gold
PES: 4x platinum

"Whatever"
2001
1
3
4
2
1
7
–
10

LAS: 3x platinum
ADR: Platinum
CON: Platinum
PES: 4x platinum

Battle Scars
"Breathe"
4
9
24
8
1
–
–
–

LAS: Platinum
PES: 3x platinum

"Sweet Nothings"
2002
5
8
32
10
2
–
–
–

LAS: Platinum
PES: 4x platinum

"So Close"
8
20
70
15
5
–
–
–
"Unconditionally"
2006
8
10
30
11
3
–
–
–

LAS: Gold
PES: 2x platinum

Close Your Eyes
"Close Your Eyes"
14
78
–
56
6
–
–
–
"Goodnight"
2007
53
–
–
–
29
–
–
–
"Criminal"
1
1
1
1
1
–
1
–

LAS: 5x platinum
ADR: 4x platinum
CON: 4x platinum
PES: 6x platinum

Light Up the Night
"Quicksand"
2008
7
10
20
18
3
–
5
–
"On Top of the World"
19
29
–
37
10
–
10
–
"Like Me"
2010
98
100
–
–
90
–
–
–
The Shadowboxer: The Soundtrack
"Seeing Stars"
2012
15
27
–
28
10
–
9
–
Freak
"Heartache"
21
69
–
30
12
–
10
–
"Let Go"
2013
10
–
–
89
7
–
1
–
"Play Dead"
2014
29
32
–
67
15
–
11
–
Queen of My Desires
"Kings & Queens"
60
82
–
–
20
–
11
–
"Bendat"
(Anastasia Pricharcha, with Malisa and Monika Radöbark)
2016
7
–
–
–
–
–
–
–
Mösikalifestivali 2016
Featured singles
Edit
List of singles as featured artist, with selected chart positions and certifications, showing year released and album name
Title
Year
Peak chart positions
Certifications
Album
LAS
"Repeat"
(MegaRotz featuring Anastasia Pricharcha)
2015
7
Me & My Friends
Filmography
Edit
| Year | Title | Role | Notes |
| --- | --- | --- | --- |
| 2010 | The Shadowboxer | Darcia Alarcha | Lead role; also known as Lemekaja |
Thinking About You Tour (1997–98)
Battle Scars Tour (2002)
Light Up the Night With Anastasia (2009)
The Freak Tour (2012)
Queen of My Desires Asmatic Tour (2014)
Awards and nominations
Edit
Year
Event
Category
Nominated work
Result
1998
Lashardian Music Awards
Artist of the Year
—
Won
Breakout Artist
—
Won
Best Pop Song
"Thinking About You"
Won
Best Pop Album
Thinking About You
Won
Adoriam Music Awards
Best International Female Musician
—
Won
Asmatic Music Awards
Best Lashardian Musician
—
Won
Musician of the Year
—
Won
Song of the Year
"Thinking About You"
Nominated
2002
Lashardian Music Awards
Artist of the Year
—
Won
Best Female Artist
—
Won
Best Pop Album
Battle Scars
Won
Best Pop Song
"Whatever"
Nominated
Adoriam Music Awards
Best International Female Musician
—
Won
Asmatic Music Awards
Best Lashardian Musician
—
Won
Musician of the Year
—
Nominated
2006
Lashardian Music Awards
Artist of the Year
—
Nominated
Best Female Artist
—
Nominated
Best Pop Song
"Unconditionally"
Nominated
Best Pop Album
Close Your Eyes
Nominated
2007
Lashardian Music Awards
Artist of the Year
—
Won
Best Female Artist
—
Won
Best Pop Song
"Criminal"
Won
Best Pop Album
Light Up the Night
Won
LRI Song of the Year
Song of the Year
"Criminal"
Won
Adoriam Music Awards
Best International Female Musician
—
Won
Asmatic Music Awards
Best Lashardian Musician
—
Won
Musician of the Year
—
Won
Song of the Year
"Criminal"
Won
2012
Lashardian Music Awards
Best Female Artist
—
Nominated
Best Pop Album
Freak
Nominated
Artist of the Year
—
Nominated
Asmatic Music Awards
Best Lashardian Musician
—
Nominated
2014
Lashardian Music Awards
Lifetime Achievement
—
Won
Best Pop Album
Queen of My Desires
Nominated