Aurora Jonöbenhardt

Jonöbenhardt in 2013.
Born
Aurora Jonöbenhardt
1 February 1983
Beck, Lashardia
Occupation
Singer, songwriter, model
Spouse
Wolfeblood (2012–present)
Children
Jeffa Maksimöflicel (b. 2016)
Musical Career
Genres
Lashpop, punk, hard rock, grunge, dance-rock, alternative rock
Instruments
Vocals, guitar, drums
Years active
2001–present
Labels
Cyclops Records
Associated acts
Era, Abbe, Bleta, Ina, Sox, Wolfeblood
Aurora Anastasia Jonöbenhardt (born 1 February 1983) is a Lashardian singer, songwriter, and model.
After working as a songwriter for several years, Jonöbenhardt experienced breakout success in 2006 after the release of her debut solo single "Love Is Dead". The song catapulted her into superstardom, and in 2007 she released her debut album Aurora Fights the Naughty Boys which reached number-one in four countries.
In 2010, she released her second studio album Lost In a Fairytale. The album was a smash-success, becoming the best-selling album of 2010. It was preceded by its lead single "Dirty Love" which peaked at number-one on the Lashardian singles chart for twelve weeks.
Throughout her career, Jonöbenhardt became known for her punk-approach to Lashpop music, often being compared to the likes of Korinne Erikösens and Era.
Life and career
Edit
Early life
Edit
Aurora Jonöbenhardt was born on 1 February 1983 in Beck, Skaarsland. Her parents were both professors at Skaarsland University, with her father Jon teaching Titovic languages and her mother Marthina teaching psychology. She has a younger sister and brother, who are also academics. She has described herself as the "black sheep" of the family. She grew up upper-middle class.
Jonöbenhardt attended primary school in her hometown Beck, and excelled, particularly in foreign language and music. Despite originally planning to attend a classic and modern languages high school to become an interpreter, she ended up attending a performing arts high school, graduating in 2001. Following her graduation, she moved to Ubenmoor to pursue a career in music.
2001–2005: Songwriting career
Edit
After arriving in Ubenmoor, Jonöbenhardt quickly made a name for herself coauthoring pop songs with notable producers. In 2003, she signed a songwriting contract with Cyclops Records, and went on to write and cowrite songs for notable acts including Era, Abbe, and Bleta.
In 2005, Jonöbenhardt was listed at number five on music magazine FreeStyle's Top 50 Pop Songwriters list. Eventually, Jonöbenhardt became frustrated with media not recognizing songwriters like herself for their work in the music industry, and began aspiring to pursue a solo career.
2005–2008: Solo breakthrough and Aurora Fights the Naughty BoysEdit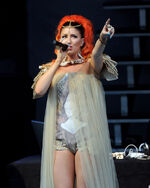 In 2004, Jonöbenhardt wrote and recorded a demo version of the song "Love Is Dead", originally intending on giving the song to Era for her second studio album Elemental. However, Era rejected the song and it was discarded.
After deciding to embark on a solo career, Jonöbenhardt rerecorded the song as a professional studio version and was signed to Cyclops Records as a solo artist. The song was released in 2006 as the lead single to her debut studio album. "Love Is Dead" became a smash hit, reaching number-one in three countries.
Her debut album, titled Aurora Fights the Naughty Boys was later released in 2007. The album's title alludes to an inside joke between Jonöbenhardt and the producers and songwriters she created the album with. Like its lead single, the album was a smash hit, and also produced the hit singles "Walking on Water" and "Heal".
2008–2013: Lost In a FairytaleEdit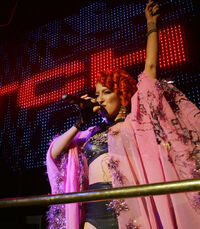 Jonöbenhardt began writing music for her second studio album while on tour for Aurora Fights the Naughty Boys. In a 2008 interview she stated, "The stuff for the new album is much more raw. It's more punk rock, grunge, etc. I'm really liking the direction we're going in and I can't wait until I can share some of the shit we came up with with all you guys".
The following year, the lead single from the album, titled "Dirty Love", was released. The song saw a heavy inspiration from punk rock, and featured heavily explicit lyrics and a very fast tempo. The song was a smash hit, peaking at number-one on the Lashardian singles chart for over twelve-weeks, becoming the best-charting single of 2009.
Jonöbenhardt's second studio album, Lost In a Fairytale, was released in 2010. The album, much like its lead single, took heavy influence from punk rock, hard rock, and dance-rock. The album later became the best-selling album of 2010. It spawned the hit singles "Hour of the Wolfe", "Glow In the Dark", and "Supernatural".
2013–present: Return to songwriting and hiatus
Edit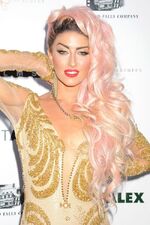 After the completion of the Lost In a Fairytale Tour and the album's release, Jonöbenhardt announced that she'd be taking a hiatus from singing for "a few years", instead returning to work as a songwriter.
In a 2014 interview she stated, "I just really needed some time off. I try to put my heart and soul in each song I write for myself, and if I have nothing to write about what's the point of writing at all? I just need some time to have new experiences and experience new emotions, but I definitely won't be gone for long".
During her hiatus, she worked intensely with Ina and Sox, performing guest vocals on songs from both of their albums. She cowrote many of the songs featured on Era's 2015 album Songs from the Graveyard. In October 2016, she revealed that it'd be "awhile" until her third studio album, due to prioritizing her family.
Personal life
Edit
Jonöbenhardt and her siblings were raised trilingual. She speaks fluent Adoriamian, Pesan, Consensumian, and English in addition to her native Lashardian. She married longtime boyfriend, indie pop musician Wolfeblood in winter 2012. They reside together in Flastland, Ubenmoor. She gave birth to their first child, a daughter, Jeffa, in April 2016.
Jonöbenhardt identifies as bisexual. In a 2011 interview, she revealed that she was not raised with a religion and does not identify with one, but still considers herself a spiritual person.
Discography
Edit
Studio albums
Edit
List of studio albums, with selected chart positions, sales figures and certifications
Year
Title
Album details
Peak chart positions
Certifications
LAS
ADR
CON
SOD
PES
2007
Aurora Fights the Naughty Boys

Label: Cyclops Records
Format: Digital download, CD, LP

1
1
9
1
1

LAS: 4x platinum
ADR: 2x platinum
PES: 2x platinum

2010
Lost In a Fairytale

Label: Cyclops Records
Format: Digital download, CD, LP

1
1
4
2
1

LAS: 6x platinum
ADR: 5x platinum
CON: Platinum
PES: 6x platinum
List of singles as lead artist, with selected chart positions and certifications, showing year released and album name
Title
Year
Peak chart positions
Certifications
Album
LAS
ADR
CON
SOD
PES
"Love Is Dead"
2006
1
5
10
3
2

LAS: 5x platinum
ADR: Platinum
PES: 2x platinum

Aurora Fights the Naughty Boys
"Walking on Water"
2007
2
7
9
8
5

LAS: 2x platinum
PES: Gold

"Heal"
5
8
24
12
6
"Dirty Love"
2009
1
1
2
1
1

LAS: 7x platinum
ADR: 5x platinum
CON: 4x platinum
PES: 5x platinum

Lost In a Fairytale
"Hour of the Wolfe"
2010
2
2
7
2
1

LAS 2x platinum
ADR: 2x platinum
PES: 4x platinum

"Glow In the Dark"
2011
1
4
18
6
3

LAS: 4x platinum
ADR: Platinum
PES: Platinum

"Supernatural"
1
8
42
10
5

LAS: 3x platinum
ADR: Gold
PES: Platinum
Awards and nominations
Edit
Year
Event
Category
Nominated work
Result
2006
LRI Song of the Year
Song of the Year
"Love Is Dead"
Won
2007
Lashardian Music Awards
Best Pop Song
"Love Is Dead"
Won
Breakout Artist
–
Nominated
LRI Song of the Year
Song of the Year
"Walking on Water"
Nominated
2009
LRI Song of the Year
Song of the Year
"Dirty Love"
Won
2010
Lashardian Music Awards
Artist of the Year
–
Won
Best Female Artist
–
Won
Best Pop Song
"Dirty Love"
Won
Best Pop Album
Lost In a Fairytale
Won
Adoriam Music Awards
Best International Female Artist
–
Won
Asmatic Music Awards
Best Lashardian Musician
–
Won
Musician of the Year
–
Nominated