Bleta

Bleta in 2015.
Born
Bleta Jargödöke
15 November 1965
Klicki, Lashardia
Occupation
Singer, songwriter, model, actress, record producer, dancer
Political party
Social Democrats
Spouse
Erik Samöfrend (1989–1997)
Parik Trishökleft (2000–2004)
Danyel Krisöyord (2006–2007)
Sav Palödavind (2010–2014)
Children
Justin Eriköfrend (b. 1991)
Greta Eriköfrend (b. 1993)
Karmella Eriköfrend (b. 1995)
Jess Trishökleft (b. 2001)
Jessika Trishökleft (b. 2004)
Ana Savödavind (b. 2012)
Jija Savödavind (b. 2012)
Musical Career
Genres
Lashpop
Instruments
Vocals
Years active
1982–present
Labels
Cyclops Records
Bleta Nöella Jargödöke (born 15 November 1965), better known as simply Bleta, is a Lashardian singer, songwriter, model, actress, record producer, and dancer.
She first entered the Lashardian music scene in 1982 at age 16 when she released her debut single "Öd skicel". The song contrasted against the über-popular Lashpop of the 1980s, and was a lowtempo ballad about love. The song catapulted Jargödöke into stardom and she became known as the very first Lashardian teen idol.
After releasing her first two albums in this style, in 1987, shed her girl-next-door image in favor of a bad girl look. She began performing under only her first name and sang Lashpop songs in English, becoming one of the first Lashpop musicians to not perform in Lashardian.
Life and career
Edit
Early life
Edit
Bleta Jargödöke was born on 15 November 1965 in Klicki, Skaarsland. Her father Jarg worked as a freelance journalist while her mother Jalina ran a bakery. She had a younger sister named Olga, and the family was middle class.
She attended primary school in Klicki, and excelled, especially in writing, reading, and music. She graduated the second in her class in 1980. Following her graduation from primary school, she moved to Ubenmoor with her father to pursue a music career and opted not to attend high school.
1982–1987: Breakthrough, Bleta, and KargöEdit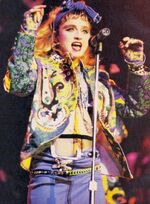 After moving to Ubenmoor with her father, Bleta began booking gigs as a commercial actress, print model, and singer in nightclubs. In 1981, she attended an open audition for teens aged 14-18, and was signed to Cyclops Records, one of the largest record labels in Lashardia.
She released her debut single "Öd skicel" ("Snowy night", in English) the following year. The song contrasted the popular Lashpop style of the time, and was a ballad about teenage love. "Öd skicel" catapulted Bleta into fame as a teen idol. Her debut self-titled album was released in 1983, and peaked at number-one on the Lashardian albums chart.
Following the success of her first album, Bleta began working on her follow-up. The album's lead single "Tifo kras ojiga" ("Make You Believe Again") was released in 1984, and again topped the Lashardian charts. The album, titled Kargö (Dance), was released in 1985.
1987–1993: Good Girl Gone Bad and Suicide BlondeEdit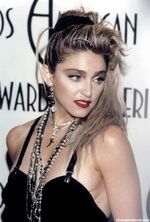 Following the 1985 release Kargö, Bleta made very few public appearances and released no new music. In a 1987 interview, she revealed that she was recording new music and taking a break from the public. Later in the year, she released the single "Problem". The song was a dramatic shift from her previous releases, being an uptempo Lashpop song in the English language.
"Problem" proved to be controversial in Lashardia, due to its suggestive lyrics and graphic music video consisting of sex and violence. Despite the controversy, the song was a massive success, reaching number-one in six countries.
Bleta's third studio album Good Girl Gone Bad was later released in 1989, which was in a similar style to "Problem". The album also produced the hit singles "Mirror", "Wonderland", "Holiday", and "Saturday Night", becoming the best-selling Lashardian album of all-time.
In 1991, following the birth of her first child, Bleta began work on her fourth studio album. The album's lead single "80s Music" was released in 1992, parodying 80s culture and music. The song was a smash hit, reaching number-one in four countries and the Top 5 in two others. Her fourth studio album Suicide Blonde was released the same year, and produced the singles "Blonde Bitch" and "Homewrecker".
1993–1998: Film debut and Call MeEdit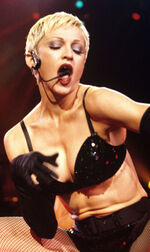 In 1994, following the birth of her second child, Bleta stated in an interview "I think I'm out of my rebellious phase. I'm more mature now and I think it's going to reflect in my new music".
Later that year, she released the lead single from her upcoming album titled "Cameo Lover", which was inspired by jazz music. Her fifth studio album Call Me, was later released the next year, and produced the singles "Silhouette" and "Open Up Your Heart".
Following the release of Call Me, Bleta revealed that she'd take a break from music to pursue an acting career. Her first feature film, the musical historical drama Albijona was released in 1998, and chronicled the life of Queen Albijona, the first queen of the Kingdom of Pesa. Bleta portrayed Albijona. Despite the film being panned by critics, it was a major success amongst fans.
1998–2007: Nöella and further film rolesEdit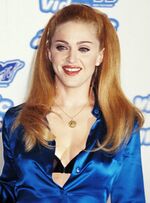 In 2000, Bleta revealed that she would be returning to music with her sixth studio album being released soon. The album's lead single "Warrior" was released in 2002, and wasn't as successful as her previous releases.
The album, titled Nöella, was later released in 2004, on the day of her daughter's birth. The album also produced the singles "Hair", "Fairytale", and "Legendary", however they all achieved much lower levels of success than her previous work did.
In 2006, Bleta revealed she'd be taking another break from music to continue work on her acting career. She starred in the film Ingel and had a guest starring role in the popular sitcom Darla. She was inducted into the Lashardian Music Hall of Fame that year.
2007–2012: Lola JeanneEdit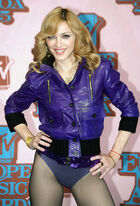 In 2007, Bleta revealed that work on her seventh studio album had begun. In an interview, she stated "The album combines my two biggest passions: music and acting. It's told in the perspective of a character I created. She's big, colorful, crazy, and eccentric, so the songs are definitely going to be inspired by some of my old 80s music."
The album's lead single "Give It to Me" was released in 2008 and featured guest vocals from Adoriamian rapper K.I.A.R.A and Lashardian electronic musician Era. The song went on to reach number-one in four countries, becoming Bleta's first number-one song in over ten years. The album, titled Lola Jeanne, was released in 2010, and produced the singles "Lollipop Man", "Teach Me", and "Life Is a Party".
2012–present: Various singles and film roles
Edit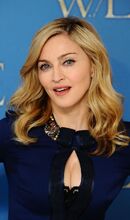 Following the 2010 release of Lola Jeanne, Bleta announced that she'd be semi-retiring from the music industry, and had no plans to release any albums anytime soon. She subsequently had roles in the films Radma, Tigin, and Historia, while guest starring in numerous television series.
She released the single "Double Trouble" in 2012 after the birth of her identical twin daughters. She competed in Mösikalifestivali 2016 with the song "Bitch I'm Bleta". She placed second in her semi-final and went on to place seventh in the final.
Personal life
Edit
Bleta married actor Erik Samöfrend in 1989. They had three children together: Justin (b. 1991), Greta (b. 1993), and Karmella (b. 1995). They later divorced in 1997. In 2000, she married film director Parik Trishökleft and had two children with him: Jess (b. 2001) and Jessika (b. 2004), before divorcing shortly after the birth of their second child.
Bleta married male model Danyel Krisöyord in 2006, but they divorced the following year. She married actor Sav Palödavind in 2010 and had identical twin girls Ana and Jija with him in 2012. They divorced in 2014. She currently lives with her family in Hoffmann, Ubenmoor, and also owns homes in Beck, Port of Lashardia, Purva, Vershando, and Pivot. She is a Lashardian Orthodox Christian and has donated thousands of dollars to the Lashardian Social Democratic Party.
Discography
Edit
Studio albums
Edit
List of studio albums, with selected chart positions, sales figures and certifications
Year
Title
Album details
Peak chart positions
Certifications
LAS
ADR
CON
SOD
PES
ZAK
POP
ILM
REN
MOK
1983
Bleta

Label: Cyclops Music
Format: LP, cassette, CD

1
–
–
–
17
–
–
–
–
–
1985
Kargö

Label: Cyclops Music
Format: LP, cassette, CD

1
–
–
–
10
–
–
–
–
–
1989
Good Girl Gone Bad

Label: Cyclops Music
Format: LP, cassette, CD

1
1
1
1
1
3
–
2
1
2

LAS: Diamond
ADR: 8x platinum
CON: 8x platinum
PES: Diamond

1992
Suicide Blonde

Label: Cyclops Music
Format: LP, cassette, CD

1
1
2
1
1
4
–
1
2
2

LAS: 9x platinum
ADR: 8x platinum
CON: 3x platinum
PES: Diamond

1995
Call Me

Label: Cyclops Music
Format: LP, cassette, CD

1
1
4
2
1
8
–
2
2
2

LAS: 6x platinum
ADR: 5x platinum
CON: Platinum
PES: 7x platinum

1998
Albijona: The Soundtrack

Label: Lashardia Films International
Format: CD, LP, cassette, digital download

1
1
–
–
1
–
–
–
–
–

LAS: Gold
ADR: Gold
PES: Platinum

2004
Nöella

Label: Cyclops Music
Format: CD, digital download, LP

1
1
5
4
1
13
–
10
7
9

LAS: 3x platinum
ADR: 3x platinum
CON: Gold
PES: 5x platinum

2010
Lola Jeanne

Label: Cyclops Music
Format: Digital download, CD, LP

1
1
3
5
1
–
1
5
3
2

LAS: 6x platinum
ADR: 5x platinum
CON: 2x platinum
PES: 7x platinum
List of singles as lead artist, with selected chart positions and certifications, showing year released and album name
Title
Year
Peak chart positions
Certifications
Album
LAS
ADR
CON
SOD
PES
ZAK
POP
ILM
REN
MOK
"Öd skicel"
1982
1
–
–
–
10
–
–
–
–
–
Bleta
"Tifo kras ojiga"
1984
1
–
–
–
15
–
–
–
–
–
Kargö
"Problem"
1987
1
1
1
1
1
2
–
2
1
2

LAS: 6x platinum
ADR: 6x platinum
CON: 4x platinum
PES: 8x platinum

Good Girl Gone Bad
"Mirror"
1988
1
1
2
3
1
5
–
3
2
1

LAS: 5x platinum
ADR: 4x platinum
CON: Platinum
PES: 6x platinum

"Wonderland"
2
2
2
4
1
10
–
4
3
2

LAS: 3x platinum
ADR: 2x platinum
CON: Platinum
PES: 4x platinum

"Holiday"
1989
3
2
5
7
2
48
–
3
2
2

LAS: Platinum
ADR: 3x platinum
CON: Gold
PES: 2x platinum

"Saturday Night"
2
1
4
5
1
13
–
2
1
1

LAS: 3x platinum
ADR: 4x platinum
CON: Gold
PES: 4x platinum

"80s Music"
1992
1
1
4
5
1
7
–
9
6
1

LAS: 7x platinum
ADR: 5x platinum
CON: Gold
PES: 7x platinum

Suicide Blonde
"Blonde Bitch"
1993
2
2
8
10
1
9
–
14
16
2

LAS: 3x platinum
ADR: 2x platinum
PES: 4x platinum

"Homewrecker"
5
6
12
19
2
21
–
58
87
7

LAS: Platinum
ADR: Gold
PES: 3x platinum

"Cameo Lover"
1994
1
1
6
9
1
10
–
8
12
2

LAS: 3x platinum
ADR: 4x platinum
CON: Gold
PES: 6x platinum

Call Me
"Silhouette"
1995
7
5
10
12
3
23
–
17
31
10

LAS: Gold
ADR: Platinum
PES: 2x platinum

"Open Up Your Heart"
3
1
8
9
1
10
–
10
21
5

LAS: Platinum
ADR: 3x platinum
PES: 5x platinum

"Warrior"
2002
10
10
76
80
7
92
–
65
71
24

LAS: Platinum
ADR: Gold
PES: Platinum

Nöella
"Hair"
2003
18
21
–
–
10
–
–
–
–
–
"Fairytale"
2004
60
62
–
–
51
–
–
–
–
–
"Legendary"
2005
94
–
–
–
–
–
–
–
–
–
"Give It to Me"
(Bleta featuring K.I.A.R.A and Era)
2008
1
1
10
13
1
–
1
4
6
3

LAS: 5x platinum
ADR: 5x platinum
PES: 7x platinum

Lola Jeanne
"Lollipop Man"
2009
17
28
–
–
10
–
6
–
–
–
"Teach Me"
46
68
–
–
12
–
5
–
–
–
"Life Is a Party"
2010
87
–
–
–
20
–
10
–
–
–
"Double Trouble"
2012
98
100
–
–
87
–
67
–
–
–
Non-album single
"Bitch I'm Bleta"
2016
32
–
–
–
–
–
–
–
–
–
Mösikalifestivali 2016
Filmography
Edit
| Year | Title | Role | Notes |
| --- | --- | --- | --- |
| 1998 | Albijona | Queen Albijona | Starring role |
| 2006 | Ingel | Anabella | Starring role |
| 2010 | Radma | Lekse | Supporting role |
| 2012 | Tigin | Evelina Draköfurmann | Supporting role |
| 2013 | Historia | Eden | Starring role |
Television
Edit
| Year | Title | Role | Notes |
| --- | --- | --- | --- |
| 2006 | Darla | Janna | Guest role |
| 2011–14 | Mia | Jölla | Recurring role |
| 2011 | Ikeb ö shant | Nina | Guest role |
| 2012 | Növa nöma | Alma | Guest role |
The Good Girl Gone Bad Tour (1988–89)
Attack of the Suicide Blondes (1992–94)
Call Me Bleta Tour (1997)
I Am Lola Jeanne (2010–11)
Awards and nominations
Edit
Year
Event
Category
Nominated work
Result
1992
Lashardian Music Awards
Artist of the Year
—
Won
Best Female Artist
—
Won
Best Pop Song
"80s Music"
Won
Best Pop Album
Suicide Blonde
Won
Adoriam Music Awards
Best International Female Musician
—
Won
Asmatic Music Awards
Best Lashardian Musician
—
Won
Musician of the Year
—
Won
Song of the Year
"80s Music"
Won
1995
Lashardian Music Awards
Artist of the Year
—
Won
Best Female Artist
—
Won
Best Pop Song
"Cameo Lover"
Won
Best Pop Album
Call Me
Won
Adoriam Music Awards
Best International Female Musician
—
Won
Asmatic Music Awards
Best Lashardian Musician
—
Nominated
2004
Lashardian Music Awards
Lifetime Achievement
—
Won
2008
LRI Song of the Year
Song of the Year
"Give It to Me"
Won
2009
Lashardian Music Awards
Korinne Erikösens Award — Lashardian Icon
—
Won
Best Pop Song
"Give It to Me"
Nominated
2010
Lashardian Music Awards
Best Pop Album
Lola Jeanne
Nominated