Ebona Jonölark

Jonölark in 2012
Born
Ebona Jonölark
22 July 1986
Pivot, Lashardia
Occupation
Singer, songwriter
Musical Career
Genres
Folk pop, pop rock, indie pop
Instruments
Vocals, harp, piano
Years active
2006–present
Labels
Abigail Rhodes Records
Ebona Anastasia Jonölark (born 22 July 1986) is a Lashardian singer and songwriter.
Jonölark first entered the public eye in 2008, following the release of her debut studio album In My Eyes, which reached the top three of the Lashardian albums charts. The album included the hit single "Love Me".
Jonölark later released her second studio album, entirely in the Lashardian language titled Mono in 2012. The album was both a commercial and critical success, and contained the number-one single "Żlo" ("I am", in English). In 2015, she became a judge on The X Factor: Lashardia. She left the show after one season to focus on her music career.
Life and career
Edit
Early life
Edit
Jonölark was born on 22 July 1986 in Pivot, Jurgensland. Her father Jon was a lecturer of zoology at Jurgensland University while her mother AnnaMaria was a travel agent. She was an only child and grew up in an upper middle class home. She learned to play the piano at age six, and learned to play harp at age twelve.
Jonölark attended primary school in Pivot and went on to attend a social sciences high school in Pivot, specializing in psychology with the intent of becoming a child psychologist. Following her graduation from high school, she began attending Jurgensland University as a psychology major but dropped out at age twenty after being inspired to move to Ubenmoor to pursue a music career.
2006–2010: In My Eyes and breakthroughEdit
In 2006, Jonölark was signed to Lashardian independent label Abigail Rhodes Records, to begin work on her debut album. She released the lead single from the album "Love Me" in 2007. The song achieved moderate chart success, reaching the top twenty in Lashardia and Pesa. Her debut studio album In My Eyes was released the following year, and peaked at number-two on the Lashardian albums chart.
2010–2013: Mono and further successEdit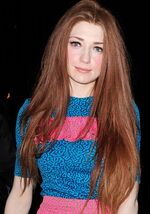 In 2010, Jonölark revealed that production on her second studio album had commenced. She later stated that the album would be entirely in Lashardian, and that she'll have more creative control over it than her first album.
The lead single from the album "Żlo" ("I am", in English) was released in 2011, and reached number-one on the Lashardian singles chart. The album titled Mono, was later released the following year and peaked number-one on the Lashardian albums chart. The album also produced the hit singles "Lesoti ö si" ("I love you and her"), "Miflech preska" ("Whisper me something"), and "Clom" ("Hello").
2013–present: The X Factor: Lashardia and MatteEdit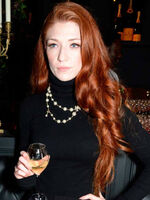 In 2013, Jonölark revealed that her third studio album will consist of both Lashardian and English songs, calling it "a Mono-In My Eyes hybrid". In 2015, she was announced as the new judge of the music reality competition show The X Factor: Lashardia for its second season. She was the mentor of the eventual winners, Electric Winter.
She took part in Mösikalifestivali 2016 with the song "Love Song". She won her semi-final and went on to place second in the final. In April 2016, she released the lead single from her upcoming studio album, titled "Someone Who'll Get It". The song saw a departure from her stripped-down piano-driven songs of the Mono-era, in favor of more produced indie pop. The song debuted at number-one on the Lashardian singles chart. The album, Matte, was released in July 2016 and peaked at number-one in Lashardia, in addition to charting in Adoriam and Pesa. It also contained the hit single "Ni ö varden".
Personal life
Edit
Jonölark has been very private about her personal life, refusing to talk about it in interviews. In 2014, she revealed that she is married and has one daughter who was born in 2013. The family lives in Pivot. She is a second cousin of The X Factor: Lashardia season one runner-up Zig Novölark.
Discography
Edit
Studio albums
Edit
List of studio albums, with selected chart positions, sales figures and certifications
Year
Title
Album details
Peak chart positions
Certifications
LAS
ADR
PES
2008
In My Eyes

Label: Abigail Rhodes Records
Format: Digital download, CD, LP

2
–
8
2012
Mono

Label: Abigail Rhodes Records
Format: Digital download, CD, LP

1
–
6
2016
Matte

Label: Abigail Rhodes Records
Format: Digital download, CD, LP

1
3
3

LAS: 3x platinum
ADR: Platinum
PES: Platinum
List of singles as lead artist, with selected chart positions and certifications, showing year released and album name
Title
Year
Peak chart positions
Certifications
Album
LAS
ADR
PES
"Love Me"
2007
11
–
20
In My Eyes
"Make Me Forget"
2008
89
–
–
"Żlo"
2011
1
–
–
Mono
"Lesoti ö si"
2012
4
–
–
"Miflech preska"
9
–
–
"Clom"
6
–
–
"Love Song"
2016
5
–
–
Mösikalifestivali 2016
"Someone Who'll Get It"
1
5
8

LAS: 2x platinum
ADR: Platinum
PES: Gold

Matte
"Ni ö varden"
1
–
1

LAS: 4x platinum
PES: 3x platinum
Awards and nominations
Edit
Year
Event
Category
Nominated work
Result
2008
Lashardian Music Awards
Breakout Artist
—
Nominated
2012
Lashardian Music Awards
Best Alternative Song
"Żlo"
Won
Best Alternative Album
Mono
Won
Artist of the Year
—
Nominated
Best Female Artist
—
Nominated
Asmatic Music Awards
Best Lashardian Musician
—
Won
Musician of the Year
—
Nominated
2016
Lashardian Music Awards
Artist of the Year
—
Pending
Best Female Artist
—
Pending
Best Alternative Song
—
Pending
Best Alternative Album
—
Pending
Lifetime Achievement Award
—
Won
Adoriam Music Awards
Best International Female Artist
—
Pending
Asmatic Music Awards
Best Lashardian Musician
—
Pending