Era

Era in 2017.
Born
Marta Migelsöhoffmann
2 July 1976
Van Hidewind, Lashardia
Occupation
Singer, songwriter, actress, dancer, artist
Political party
Greens
Musical Career
Genres
Lashpop, punk, grunge, electronic, electroclash
Instruments
Vocals, guitar, drums, bass, synthesizer, piano
Years active
1986–present
Labels
Cyclops Music
Associated acts
Fallen Angels, Sox, Pal Nigtöfoor
Marta Era Migelsöhoffmann (born 2 July 1976), better known by her stage name Era, is a Lashardian singer, songwriter, actress, dancer, and artist who achieved extreme popularity in the early 2000s. Era started her career under her birth name Marta Migelsöhoffmann in the mid-1980s as a child actress. She starred in the children's television show Hopershik (Friendship, in English) from 1986 until its final season in 1991.
Following the show's ending, Migelsöhoffmann became a member of the girl group Fallen Angels. Despite being the youngest member at only 17 years old, Migelsöhoffmann was well-known for having the strongest voice of the three girls. The group achieved major success and were inducted into the Lashardian Music Hall of Fame in 2014.
They broke up to pursue solo careers in 1997, however Migelsöhogffmann was the only one who achieved major success. She rebranded herself as Era and became known for performing Lashpop heavily influenced by punk and grunge music popular in the 80s and early 90s, respectively.
Life and career
Edit
Early life
Edit
Marta Migelsöhoffmann was born on 2 July 1976 in Van Hidewind (now Vanvind), Dayasland to Migels Kisöhoffmann and Malina Rideröshom. She was an only child. Her father worked as a real estate agent while her mother was a homemaker.
She described her upbringing as "typical Dayasland conservative Orthodox Christian". She began attending primary school in Van Hidewind, but had trouble due to her dyslexia and ADHD. At the age of nine, her mother brought her to an open audition in Ubenmoor to help her get over her shyness. She ended up getting the role and was cast in Hopershik
1986–1991: HopershikEdit
In Hopershik, Migelsöhoffmann portrayed Kasa, a witty ten-year old attending primary school in Ubenmoor with her friends. Migelsöhoffmann became well-known throughout the nation for her character's quirky personality and one-liners. Hopershik was a ratings success amongst children in the country, and at the show's conclusion in 1991, it was rumored that Migelsöhoffmann's character would receive their own spin-off. However, this did not come to fruition.
1991–1997: Fallen Angels
Edit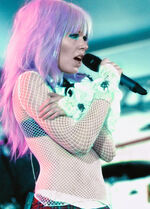 After the conclusion of Hopershik, Migelsöhoffmann revealed to the press that she was interested in pursuing a career in music and wanted to take a break from acting. She was later invited to audition for a new girl group put together by Cyclops Music, one of the biggest record labels in Lashardia. She auditioned, and became one of the founding members of Fallen Angels.
The group quickly made a name for themselves, releasing their debut single "Superstition" to rave reviews. The single reached the number-one spot on the Lashardian and Adoriamian singles charts. They released their debut album A Kiss from Hell in 1994.
Their second studio album Goodbye, Xoxo was released in 1997, and was noted for being their "farewell album" as a group. The album achieved much more commercial success than A Kiss from Hell did, reaching number-one in four countries and being certified 3x platinum. The album produced the hit singles "Devil", "Run Run Run", and "Baby Love".
1997–2002: Solo breakthrough and The DominatrixEdit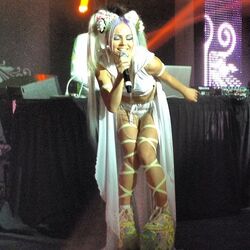 Following the disbandment of Fallen Angels, Migelsöhoffmann signed a solo recording contract with Cyclops Music. She also started performing under the name Era, which is her self-chosen middle name, in Lashardian tradition. While initially not being expected to become a widely successful artist, Era was the opening act for Korinne Erikösens on her Lost Girl Tour from 1997 to 1998.
After returning to Lashardia, she began work on her debut album. Her debut solo single "Firestar", was released in November 1999. The song was remarkable for featuring a genre binding Lashpop, grunge, and punk mashup. "Firestar" reached number-one in Lashardia, while it peaked within the top twenty of two other countries' singles charts. Her debut solo album The Dominatrix, was released in January 2001, and peaked within the top ten of four countries' albums charts.
2002–2006: ElementalEdit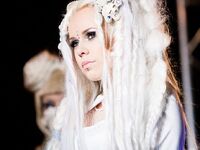 In 2002, Era revealed she had begun work on her second studio album which had already been named Elemental. She wrote and recorded the entire album in a small recording studio in Palsland. She stated that being surrounded by nature inspired her and was the inspiration behind the album's title.
The lead single from the album "I Feel Invincible", was released in December 2004. The song reached number-one in five countries and was certified 4x platinum in Lashardia. "I Feel Invincible" is known for being Era's "signature song". The album was later released in August 2005, and produced the hit singles "Army of Love", "Winterheart", "Black Out", and "Whispers".
2006–2009: Black CatEdit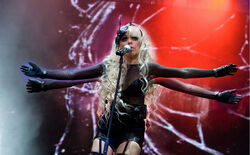 Despite originally contemplating retiring from the music industry, Era revealed that production had started on her third studio album in December 2006. In June 2007, she revealed that the album would be titled Black Cat, citing a strange encounter with a black cat as the inspiration. She stated that many of the songs from the album were inspired by that encounter, as well as the lead single titled "Adelaide".
"Adelaide" was released in October 2008, and peaked within the top ten of the Lashardian singles charts. Black Cat was released two days later and reached the number-one position on the Lashardian albums chart. Era personally painted the album's cover art.
2009–2012: KaleidoscopeEdit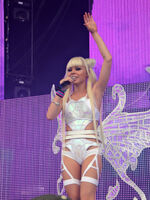 Following the release of Black Cat, Era bought a beach house in the island nation of Pesa. In a 2012 interview, she stated "most of Kaleidoscope was written in Pesa. It just had a dreamy, ethereal aura to it, reminiscent of an old kaleidoscope. My time spent in Pesa hands-down had the biggest influence on this album."
Kaleidoscope was released in August 2012 and reached the top five of the Lashardian albums chart.
2012–2016: Greatest Hits and Songs from the GraveyardEdit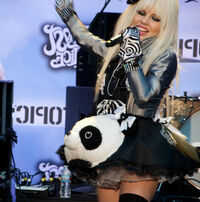 After the release of Kaleidoscope, Era announced that she would "indefinitely stop releasing new music". Instead, she announced two upcoming mini projects, a greatest hits album and an album of scrapped songs from the recording process of her previous albums.
The album of scrapped songs idea later grew into a visual album, consisting of the songs, music videos for each of them, complete with artwork created by Era that embodied each of the songs.
Era's Greatest Hits was released in July 2013 and in 2014, Era performed at the Lashardian Music Hall of Fame induction ceremony, where her former girl group Fallen Angels, were inducted.
In August 2015, the visual album Songs from the Graveyard was released, and peaked at number-one of the Lashardian albums charts, being certified 2x platinum. In 2016, she became a judge on Lashardian Idol and was inducted into the Lashardian Music Hall of Fame as a solo artist, after her former girl group was inducted two years prior.
2016–present: Upcoming studio album
Edit
In March 2017, Era surprise-released a single, called "Astronaut". The song differed from the mainly electronic music that she had been previously releasing, and was heavily inspired by dream pop and indie pop. She later revealed in an interview that she had begun work on her upcoming studio album in early-2016, but wanted it to be a surprise for her fans. It debuted at number-one in six countries.
Personal life
Edit
Era's sexual orientation had been long speculated about by Lashardian tabloids. After she was photographed kissing an unknown female in 2002, it was reported that she was a lesbian. Era responded to these claims by saying "I'm not a lesbian, I'm not straight, I'm not anything. Why must everyone be 'something'." Era has stated she's been an atheist since she was a young child, and has campaigned for the Green Party of Lashardia. She endorsed Olla Ottöfrenz's 2012 presidential bid.
Discography
Edit
Studio albums
Edit
List of studio albums, with selected chart positions, sales figures and certifications
Year
Title
Album details
Peak chart positions
Certifications
LAS
ADR
CON
SOD
PES
ZAK
POP
ILM
REN
MOK
2001
The Dominatrix

Label: Cyclops Music
Format: CD, LP

6
5
7
11
5
12
–
27
44
21

LAS: Gold
ADR: Platinum
CON: Gold

2005
Elemental

Label: Cyclops Music
Format: Digital download, CD, LP

1
1
1
2
1
1
–
5
2
2

LAS: 4x platinum
ADR: 3x platinum
CON: 3x platinum
PES: 5x platinum

2008
Black Cat

Label: Cyclops Music
Format: Digital download, CD, LP

1
3
9
9
1
4
1
18
22
12

LAS: Platinum
ADR: Platinum
PES: 2x platinum
POP: Platinum

2012
Kaleidoscope

Label: Cyclops Music
Format: Digital download, CD, LP

4
2
5
5
3
4
5
15
47
138

LAS: Gold
ADR: Platinum
PES: 2x platinum

2013
Era's Greatest Hits

Label: Cyclops Music
Format: Digital download, CD, LP

15
10
12
54
8
34
13
58
99
124
2015
Songs from the Graveyard

Label: Cyclops Music
Format: Digital download, CD, LP

1
1
10
10
1
4
2
29
16
10

LAS: 2x platinum
ADR: 3x platinum
PES: 5x platin
POP: Platinum
List of singles as lead artist, with selected chart positions and certifications, showing year released and album name
Title
Year
Peak chart positions
Certifications
Album
LAS
ADR
CON
SOD
PES
ZAK
POP
ILM
REN
MOK
"Firestar"
1999
1
15
67
–
11
–
–
–
–
–
The Dominatrix
"Hit Me Like a Man"
2000
9
27
–
–
14
–
–
–
–
–
"Replaceable"
9
16
–
–
16
–
–
–
–
–
"I Feel Invincible"
2004
1
1
1
2
1
1
–
2
2
2

LAS: 4x platinum
ADR: 4x platinum
CON: 2x platinum
PES: 5x platinum

Elemental
"Army of Love"
2005
2
1
7
2
1
9
–
11
10
10

LAS: 2x platinum
ADR: 2x platinum
CON: Gold
PES: 3x platinum

"Winterheart"
1
1
2
1
1
8
–
6
4
3

LAS: 3x platinum
ADR: 3x platinum
CON: Platinum
PES: 4x platinum

"Black Out"
1
2
2
2
2
2
–
3
2
2

LAS: 3x platinum
ADR: 3x platinum
CON: Platinum
PES: Platinum

"Whispers"
2006
1
1
8
9
3
15
–
19
15
11

LAS: 3x platinum
ADR: 2x platinum
PES: 3x platinum

"Adelaide"
2008
10
15
–
–
7
–
–
–
–
–
Black Cat
"Goodbye"
2012
87
–
–
–
–
–
–
–
–
–
Kaleidoscope
"Lullaby"
90
–
–
–
–
–
–
–
–
–
"Astronaut"
2017
1
1
5
2
1
1
1
1
5
8

LAS: 4x platinum
ADR: 4x platinum
CON: Platinum
PES: 4x platinum

TBA
Featured singles
Edit
List of singles as featured artist, with selected chart positions and certifications, showing year released and album name
Title
Year
Peak chart positions
Certifications
Album
LAS
ADR
CON
SOD
PES
POP
ILM
REN
MOK
"Give It to Me"
(Bleta featuring K.I.A.R.A and Era)
2008
1
1
10
13
1
1
4
6
3

LAS: 5x platinum
ADR: 5x platinum
PES: 7x platinum

Lola Jeanne
"Heroes"
(Sox featuring Era)
2012
1
–
–
–
1
–
–
–
–

LAS: 4x platinum
PES: 3x platinum

Mortasya
Filmography
Edit
| Year | Title | Role | Notes |
| --- | --- | --- | --- |
| 1986–91 | Hopershik | Kasa Steinöflak | Series regular; 4 seasons |
| 2015 | The X Factor: Lashardia | Herself | Guest judge |
Awards and nominations
Edit
Year
Event
Category
Nominated work
Result
2001
Lashardian Music Awards
Breakout Artist
—
Won
Best Pop Album
The Dominatrix
Nominated
Asmatic Music Awards
Best Lashardian Musician
—
Nominated
2005
Lashardian Music Awards
Artist of the Year
—
Won
Best Female Artist
—
Won
Best Pop Song
"I Feel Invincible"
Won
Best Pop Album
Elemental
Won
Adoriam Music Awards
Best International Female Artist
—
Won
Asmatic Music Awards
Best Lashardian Musician
—
Won
Musician of the Year
—
Nominated
Song of the Year
"I Feel Invincible"
Won
2008
Lashardian Music Awards
Best Female Artist
—
Nominated
Best Experimental Album
Black Cat
Won
LRI Song of the Year
Song of the Year
"Give It to Me"
Won
2012
LRI Song of the Year
Song of the Year
"Heroes"
Nominated
2013
Lashardian Music Awards
Lifetime Achievement
—
Won
2015
Lashardian Music Awards
Korinne Erikösens Award — Lashardian Icon
—
Won