Ina Edena Nen (born 2 March 1990), known professionally as simply Ina, is a Lashardian recording artist, dancer, and model.
Beginning her career as a dancer in music videos, Ina came to prominence due to her collaborations with Lashardian rapper Sox. She released her debut solo single "Don't Stop Believing" in 2013, which became a sleeper hit in Lashardia.
Known for being influenced by 1970s disco and 1980s new wave, her debut album, also titled Don't Stop Believing, reached number-one on the Lashardian albums chart in 2014.
Life and career
Edit
Early life
Edit
Ina was born as Ina Nen on 2 March 1990 into an ethnic Lashardian community in Port of Lashardia, Jak, Pesa. Her surname means "Blonde" in the Pesan language, and was first adopted when her great grandparents immigrated to the island from Lashardia in the 1930s. Her father Henrik worked as a real estate agent while her mother was a freelance makeup artist. She has two older sisters.
The family moved to Lava Ubenmoor – Flast, Ubenmoor, Lashardia, where Ina was raised, when she was 4 months old. She attended primary school in Ubenmoor, graduating in 2005. She went on to attend Queen Maria's School for the Performing Arts, and graduated in 2008 with a specialization in dance. She worked as a telemarketer prior to starting her entertainment career.
2009–2012: Work with Sox
Edit
In 2009, Ina attended an open audition for dancers for one of Lashardian rapper Sox's upcoming music videos. She landed the part and ended up performing as the female lead in his music videos for "Noka mia", "Blef", and "Harajuku". She was credited as "Ina Edena". Her and Sox ended up developing a close friendship, which eventually led to a romantic relationship.
In 2011, after discovering she had a nice voice, Sox invited Ina to perform guest vocals on one of his upcoming songs. Despite initially declining, she reluctantly agreed. The song, "All Around the World", became Sox's best-selling single of all-time. Following the song's success, Ina signed a recording contract with Sox's label, Cyclops Records
2012–2016: Breakthrough and Don't Stop BelievingEdit
Despite being initially reluctant to pursue a singing career, Ina was encouraged by her boyfriend Sox to do so. She stated in a 2013 interview, "I was like 'No way, I'm not doing this. I'm a dancer, not a singer.' But he gave me the courage in myself to think that maybe this could be me."
She worked intensively with Sox to develop her sound, and in 2012 released her debut solo single "Don't Stop Believing". The single originally was a flop, not even reaching the Lashardian Top 100 singles. However, after being used as the theme song for Lashardian reality show Real Life the following year, the song rocketed to the top of the charts, becoming the best-selling single of 2013.
Her debut studio album, also titled Don't Stop Believing, was released in 2014. The album was heavily lauded for the use of disco and new wave music, and was a commercial success as well, reaching number-one on the Lashardian albums chart.
She took part in Mösikalifestivali 2016 with two songs, "Body Talk", and "Kings Never Die" with Sox. "Body Talk" placed second in its semi-final and went on to place sixth in the final. "Kings Never Die" placed fourth in its semi-final, first in the second chance round, and eighth in the final.
2016–present: Life In the LimelightEdit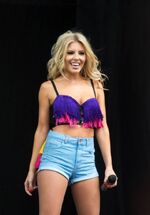 In a 2015 interview, Ina revealed that work on her follow-up album would commence at the beginning of the new year. During summer 2016, she stated that new music would be released before 2017. In October 2016, Ina released the single "Burn It Up", and preordering for her second studio album, Life In the Limelight, was made available. The song debuted at number-three on the Lashardian singles chart.
Personal life
Edit
Ina's native language is Lashardian, while she can also speak fluent Pesan and English. She has been in a relationship with Sox since 2010, and resides with him in Breż, Ubenmoor. In April 2016, they announced that they were engaged. They are close friends with Aurora Jonöbenhardt and Wolfeblood, whom they've collaborated with frequently.
Discography
Edit
Studio albums
Edit
List of studio albums, with selected chart positions, sales figures and certifications
Year
Title
Album details
Peak chart positions
Certifications
LAS
ADR
CON
PES
2014
Don't Stop Believing

Label: Cyclops Records
Format: Digital download, CD, LP

1
1
6
1

LAS: 3x platinum
ADR: Platinum
PES: 2x platinum

2017
Life In the Limelight

Label: Cyclops Records
Format: Digital download, CD, LP

1
2
5
2

LAS: Platinum
ADR: Platinum
PES: Platinum
Featured singles
Edit
Awards and nominations
Edit
Year
Event
Category
Nominated work
Result
2011
Lashardian Music Awards
Best Hip Hop Song
"All Around the World"
Won
Breakout Artist
—
Nominated
Asmatic Music Awards
Song of the Year
"All Around the World"
Nominated
LRI Song of the Year
Song of the Year
"All Around the World"
Won
2013
Lashardian Music Awards
Best Pop Song
"Don't Stop Believing"
Won
Best Female Artist
—
Nominated
Asmatic Music Awards
Song of the Year
"Don't Stop Believing"
Won
LRI Song of the Year
Song of the Year
"Don't Stop Believing"
Won
2014
Lashardian Music Awards
Artist of the Year
—
Won
Best Pop Album
Don't Stop Believing
Won
Best Female Artist
—
Nominated
Adoriam Music Awards
Best International Female Musician
—
Nominated
Asmatic Music Awards
Best Lashardian Musician
—
Won
Musician of the Year
—
Nominated