Leila Moon (born Lady Leila Danyelöwindenburg on 2 April 1995) is a Lashardian singer, songwriter, record producer, and member of the royal family. She was born a lady to Danyel, Lord of Ubenmoor and his wife Regina, Lady of Ubenmoor.
Moon first entered the music industry in 2012, when she was signed by electronic label Dragonborne Records. The news of a Lashardian princess pursuing a career in electronic music was well-circulated in the Lashardian media.
Moon released her debut single "Bounce" in 2013, which became a massive success and reached number-one on the Lashardian singles chart. Her debut studio album My So-Called Fairytale was released a year later and was also successful.
Life and career
Edit
Early life
Edit
Lady Leila was born on 2 April 1995 at Queen Leila's Sacred Heart Hospital in Kesa as the first child of Danyel, Lord of Ubenmoor and his wife Regina, Lady of Ubenmoor. Her great-uncle is King Oleg II and she is the second-cousin of Queen Sabina.
She was named Leila after Leila, The Queen Mother, the wife to King Oleg I. Leila, Lady of Ubenmoor is named after both Queen Leila and Moon.
Moon and her little sister Lady Esmeralda Danyelöwindenburg, were raised in their family's home of Klasta Castle, located outside of Kesa. She attended primary school in Kesa, where she excelled in music, art, and writing.
After graduating from primary school in 2010, she began attending Queen Maria's School for the Performing Arts in Hoffmann, Ubenmoor with a specialization in opera singing. After studying there for only three weeks, she switched her specialization to general vocal performance. While at Queen Maria's, Moon was introduced to electronic music and first chose her stage name, Leila Moon. She graduated in 2013.
2012–2015: Breathrough and My So-Called FairytaleEdit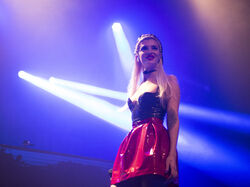 At seventeen-years-old, Moon was signed to electronic record label Dragonborne Records, while still a student at Queen Maria's. After news of her signing to the label broke, she was dubbed "The Rock Star Princess" by the Lashardian media. While finishing her studies, she also worked intensively on her debut album and performed small gigs throughout Ubenmoor.
In summer 2013, following her graduation from high school, she released her debut single "Bounce". The song was electronic and took inspiration from Lashpop and drum 'n' bass. "Bounce" went on to peak at number-one on the Lashardian singles chart, and became certified platinum.
Moon released her debut studio album My So-Called Fairytale in 2014. The album, like her first single, was largely electronic, but also had clear influence from Lashpop, drum 'n' bass, synthpop, and ambient music. The album was a large success and peaked within the Top 5 of the Lashardian albums chart. It also produced the hit singles "Alive", "Pioneer", and "Psycho".
2015–present: Second studio album
Edit
In December 2015, Moon revealed that work on her second studio album was in its early stages. The following year, she was confirmed to be a participant in Mösikalifestivali 2017, with the song "Summer Lovin'". She qualified to the second chance round from her semi-final, where she eventually qualified for the final. In the final, she placed ninth.
Personal life
Edit
Moon resides in the Breż district of Ubenmoor. She has stated that she'd like her future husband and children to acquire royal titles as well. In a 2014 interview, she stated that she was a Lashardian Orthodox Christian but that her religion was "simply a formality". Moon can speak fluent Lashardian, Pesan, Sodraxian, English, and Rentuscan. Through her father she has partial Rentuscan ancestry (through Leila, The Queen Mother), and on her mother's side, her great-great-great grandfather was a black Pesan. 
Discography
Edit
Studio albums
Edit
List of studio albums, with selected chart positions, sales figures and certifications
Year
Title
Album details
Peak chart positions
Certifications
LAS
2014
My So-Called Fairytale

Label: Dragonborne Records
Format: Digital download, CD, LP

4
List of singles as lead artist, with selected chart positions and certifications, showing year released and album name
Title
Year
Peak chart positions
Certifications
Album
LAS
"Bounce"
2013
1
My So-Called Fairytale
"Alive"
2014
9
"Pioneer"
15
"Psycho"
10
"Summer Lovin'"
2017
32
Mösikalifestivali 2017
Awards and nominations
Edit
Year
Event
Category
Nominated work
Result
2014
Lashardian Music Awards
Best Experimental Song
"Bounce"
Won
Best Experimental Album
My So-Called Fairytale
Nominated
Breakout Artist
—
Nominated