Marlina is a Lashardian girl group consisting of Katrina Roköshort, Katia Charkölarssen, Sabina Tomötimosen, Elena Draakömandig, and Tatiana Eriköhellman.
The group was formed in 2004 by Cyclops Records executives who were hoping to recreate the success of Fallen Angels. They later debuted in 2005 with their debut single "I've Been Waiting for This Night", which topped the charts in Lashardia, Pesa, Adoriam, and Sodrax. Their debut studio album Naughty & Nice was released in 2006. 
2004–2007: Formation and Naughty & NiceEdit
In November 2004, Cyclops Records held open auditions for female singers aged 18 to 22. After several rounds of auditions, the record label casted Katrina Roköshort, Katia Charkölarssen, Sabina Tomötimosen, Elena Draakömandig, and Tatiana Eriköhellman as members of Marlina. The group debuted together in public in January 2005.
In June 2005, they released their debut single as a group, "I've Been Waiting for This Night", an anthemic and upbeat Lashpop song. The song was a massive success, peaking at number-one in four countries. Their debut studio album, Naughty & Nice, was released the following year. It also produced the hit singles "Walk on Water", "Invincible", "Far from Here", and "I'm with You".
2007–2010: Feel My HeartbeatEdit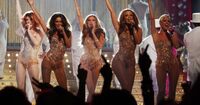 In a 2007 interview, group member Tomötimosen stated in an interview that the group had begun working on their second studio album. In a later interview, Charkölarssen stated "The new album is more us. We had more creative control over this one, and we're really happy to share it with all of you".
They released the album's lead single, "All Fired Up", in October 2008. The song was a huge success, and was certified 3x platinum in their home country. Their second studio album, Feel My Heartbeat was later released in June 2009. It also contained the hit singles "Icebreaker", "Look What You've Done", "If Love Was a Crime", and "Color My Life".
2010–present: Hiatus, residency show, and third studio album
Edit
Following the competition of their Asmatic tour supporting Feel My Heartbeat, the group announced that they'd be going on a brief hiatus in order to focus on their family lives and solo careers.
The hiatus was ended in 2014, when it was announced that the group would be given a residency show in the Planet Hollywood Resort and Casino located in Kesa for one-year. Each member's salary was reported to be $50,000 per each daily show. They performed their last show in August 2015. Following their residency show's ending, the group revealed that they have begun work on their third studio album.
In 2016, they were announced as participant in Mösikalifestivali 2017, with the song "Touch". They advanced directly from the fourth semi-final, to the final, where they later placed second. "Touch" peaked at number-two in Lashardia.
They released the lead single to their upcoming third studio album, "Camo Baby", in April 2017. The song peaked at number-four on the Lashardian singles chart.
Discography
Edit
Studio albums
Edit
List of studio albums, with selected chart positions, sales figures and certifications
Year
Title
Album details
Peak chart positions
Certifications
LAS
ADR
CON
SOD
PES
ZAK
2006
Naughty & Nice

Label: Cyclops Records
Format: Digital download, CD, LP

1
1
6
1
1
3

LAS: Platinum
ADR: Platinum
SOD: Gold
PES: 2x platinum

2009
Feel My Heartbeat

Label: Cyclops Records
Format: Digital download, CD, LP

1
3
10
1
1
78

LAS: 2x platinum
ADR: Gold
SOD: Platinum
PES: 2x platinum
List of singles as lead artist, with selected chart positions and certifications, showing year released and album name
Title
Year
Peak chart positions
Certifications
Album
LAS
ADR
CON
SOD
PES
ZAK
"I've Been Waiting for This Night"
2005
1
1
2
1
1
2

LAS: 3x platinum
ADR: 2x platinum
CON: Platinum
SOD: 3x platinum
PES: 3x platinum

Naughty & Nice
"Walk on Water"
2006
1
1
9
1
1
6

LAS: 2x platinum
ADR: Platinum
SOD: Platinum
PES: 3x platinum

"Invincible"
7
12
89
10
5
63

LAS: Platinum
ADR: Gold
SOD: Platinum
PES: Platinum

"Far from Here"
10
34
–
27
10
–
"I'm with You"
2007
38
–
–
–
24
–
"All Fired Up"
2008
1
5
17
1
1
–

LAS: 3x platinum
ADR: Platinum
SOD: 2x platinum
PES: 4x platinum

Feel My Heartbeat
"Icebreaker"
2009
3
9
–
6
2
–

LAS: Platinum
ADR: Gold
SOD: Platinum
PES: 2x platinum

"Look What You've Done"
8
1
–
15
29
–

LAS: Gold
ADR: 2x platinum
SOD: Gold

"If Love Was a Crime"
10
73
–
23
9
–
"Color My Life"
2010
8
–
–
10
62
–
"Touch"
2017
2
–
–
–
–
–
Mösikalifestivali 2017
"Camo Baby"
4
4
6
12
3
4

LAS: 3x platinum
ADR: 3x platinum
CON: Platinum
SOD: Gold
PES: 4x platinum

TBA
Awards and nominations
Edit
Year
Event
Category
Nominated work
Result
2006
Lashardian Music Awards
Best Pop Song
"I've Been Waiting for This Night"
Won
Best Pop Album
Naughty & Nice
Won
Best Band, Duo, or Group
—
Nominated
Breakout Artist
—
Nominated
Adoriam Music Awards
Best International Vocal Group
—
Won
LRI Song of the Year
Song of the Year
"Walk on Water"
Nominated
2009
Lashardian Music Awards
Best Pop Song
"All Fired Up"
Won
Best Pop Album
Feel My Heartbeat
Nominated
Best Band, Duo, or Group
—
Nominated
Artist of the Year
—
Nominated
Adoriam Music Awards
Best International Vocal Group
—
Won
LRI Song of the Year
Song of the Year
"Icebreaker"
Nominated