Matelda Hanköjons

Hanköjons performing in 2015 in Ubenmoor.
Born
Matelda Hanköjons
3 March 1990
Ubenmoor, Lashardia
Occupation
Singer, songwriter
Musical Career
Genres
Lashpop, pop rock, alternative pop, art pop
Instruments
Vocals, guitar
Years active
2005–present
Labels
Love In Stereo
Matelda Irina Hanköjons (born 3 March 1990) is a Lashardian singer and songwriter.
Hanköjons first achieved mainstream popularity in 2010, with the release of her debut studio album Dreaming Out Loud. The album combined the Lashpop genre with symphonic artsy anthemic pop, and was both a critical and commercial success. It produced the hit singles "All My Life" and "Play".
Following the release of her debut album, Hanköjons was diagnosed with breast cancer and took a hiatus from music. In 2015, she went into remission and announced the news with the release of the single "Dragon". The song became a number-one hit throughout the continent and made Hanköjons a household name. Her second studio album Fly With Me was later released, topping the charts as well.
Life and career
Edit
Early life
Edit
Matelda Hanköjons was born on 3 March 1990 in the Jorden district of Ubenmoor into a bohemian family. Her father, Hank, worked as an independent filmmaker while her mother, Andromeda, was a fashion designer-turned-painter. She has a little brother named Wolf. The family was middle class.
Hanköjons attended primary school in Ubenmoor, and excelled both in academics and arts. At the age of 14, she spent a year living in Manessa, Pesa doing volunteer work and attending school there. She graduated from primary school in 2005 as the valedictorian of her class, and against her teachers' wishes decided not to attend high school in order to begin working as a musician professionally.
2008–2012: Breakthrough and Dreaming Out LoudEdit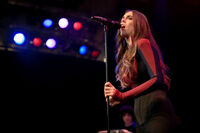 After leaving school, Hanköjons began doing small shows around Ubenmoor, performing both original songs and covers. She assisted her mother and father with their respective work, but at the age of 17 decided to stop because she was not as interested in film or painting as she was in music.
In 2008, at the age of 18, Hanköjons signed a recording contract with record label Love In Stereo Records, being the first pop singer signed to the primarily rock and alternative-focused label. In 2010, she released her debut single "All My Life", which charted in the Top 10 of Lashardia and Pesa. Her debut studio album Dreaming Out Loud was released the following year, and reached number-two on the Lashardian albums chart, while peaking at number-one in Pesa. The album also produced the singles "Play" and "Blind".
2012–2015: Cancer diagnosis and hiatus
Edit
In autumn 2012, Hanköjons revealed in an open letter that she'd be taking a hiatus from music due to her recent breast cancer diagnosis. The news was heavily reported by Lashardian media outlets. Hanköjons frequently kept her fans updated on her condition through social media and maintained a presence in the media during this time.
2015–present: Fly With Me and continued successEdit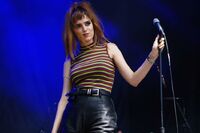 In early 2015, Hanköjons surprise-released the lead single from her upcoming second album "Dragon", and subsequently revealed she had went into remission. The song reached number-one in four countries and established Hanköjons as a household name.
Her second studio album Fly With Me was released later the same year and also peaked at number-one in four countries. The album also contained the hit single "Last Girl On Earth".
Personal life
Edit
Hanköjons currently lives in Jorden, Ubenmoor in an apartment with her close friend and fellow musician Alia Lion. She is openly bisexual, and has been in a relationship with model Kloe Amberönuggin since 2011.
Discography
Edit
Studio albums
Edit
List of studio albums, with selected chart positions, sales figures and certifications
Year
Title
Album details
Peak chart positions
Certifications
LAS
ADR
CON
PES
2011
Dreaming Out Loud

Label: Love In Stereo
Format: Digital download, CD, LP

2
–
–
1

LAS: Platinum
PES: 2x platinum

2015
Fly With Me

Label: Love In Stereo
Format: Digital download, CD, LP

1
1
1
1

LAS: 4x platinum
ADR: 3x platinum
CON: Platinum
PES: 4x platinum
List of singles as lead artist, with selected chart positions and certifications, showing year released and album name
Title
Year
Peak chart positions
Certifications
Album
LAS
ADR
CON
PES
"All My Life"
2010
7
–
–
9
Dreaming Out Loud
"Play"
2011
4
–
–
2

LAS: Platinum
PES: Platinum

"Blind"
2012
78
–
–
–
"Dragon"
2015
1
1
1
1

LAS: 5x platinum
ADR: Platinum
CON: Platinum
PES: 5x platinum

Fly With Me
"Last Girl On Earth"
2
15
19
1

LAS: 3x platinum
PES: 4x platinum
Awards and nominations
Edit
Year
Event
Category
Nominated work
Result
2011
Lashardian Music Awards
Breakout Artist
—
Nominated
2015
Lashardian Music Awards
Artist of the Year
—
Won
Best Female Artist
—
Won
Best Pop Song
"Dragon"
Won
Best Pop Album
Fly With Me
Won
Adoriam Music Awards
Best International Female Artist
—
Nominated
Asmatic Music Awards
Best Lashardian Musician
—
Nominated
LRI Song of the Year
Song of the Year
"Dragon"
Won