Olia Janisöpfleg

Janisöpfleg performing in 2014 in Kesa.
Born
Olia Janisöpfleg
15 February 1987
Ubenmoor, Lashardia
Occupation
Recording artist, actress, model
Alma mater
Queen Maria's School for the Performing Arts
Spouse
Alek Orinösampsen (2008–10)
Hampton Vansöshire (2014–present)
Children
Betta Alekösampsen (b. 2009)
Alek Alekösampsen (b. 2010)
Kaila Hamptonöshire (b. 2013)
Greg Hamptonöshire (b. 2015)
Hanna Hamptonöshire (b. 2015)
Musical Career
Genres
Lashpop, Lashardian hip hop
Instruments
Vocals
Years active
2006–present
Labels
Akai Music Group
Associated acts
Sox
Olia Cave Janisöpfleg (born 15 February 1987) is a Lashardian recording artist, actress, and model.
One of the most influential Lashpop musicians of the 21st century, Janisöpfleg entered the music industry in 2007 at age 19, releasing the single "The Kill". The song, which combined Lashpop and Lashardian hip hop, two of the most popular genres in the nation, was a hit.
Her eponymous debut album was released in 2008, to mainly negative reviews from critics, citing repetition and a lack of creativity, but was heavily lauded by fans. She went on to star in a reality show broadcast on Lashardian television titled Olia, which followed her putting together her debut studio album and performing on her first arena tour.
Her second studio album, Catch My Breath, released in 2011, was a huge success critically and commercially, establishing her as a household name. She became a judge on The X Factor: Lashardia in 2017.
Life and career
Edit
Early life
Edit
Olia Janisöpfleg was born on 15 February 1987 in the Hoffmann district of the capital city Ubenmoor. Her father Janis Cavöpfleg was a lawyer while her mother Cara Brookfeldt was a Consensumian immigrant who worked as the head chef at a local restaurant.
She described her upbringing as "upper-middle class" and "a bit posh". Janisöpfleg has an older sister, Kasia, and a younger brother, Lenn. She attended primary school in Ubenmoor, and then attended Queen Maria's School for the Performing Arts, graduating in 2005. She was close friends with Gigi Ergörot in high school.
2006–2009: Breakthrough and OliaEdit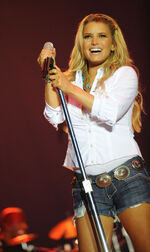 In January 2006, Janisöpfleg signed a contract with Akai Music Group. She began working with Sox, in order to define her sound. Her debut single "The Kill" was released in May 2007. The song was a smash success, reaching the top five in Lashardia and being certified platinum.
Following the success of the single, the Lashardian music channel LMTV, picked up a reality show starring Janisöpfleg, which would focus on her creating her debut album and preparing for her first arena tour. Her eponymous debut album was released in March 2008 and reached number-one on the Lashardian albums chart, while her reality show of the same name was a success as well. The album also spawned the singles "Love Story" and "Fairytale".
2010–2013: Catch My Breath and The CollectionEdit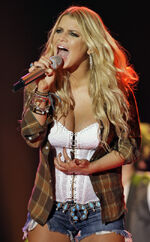 Following the birth of her children and divorce from Alek Orinösampsen, Janisöpfleg began work on her second studio album. She described the album's theme as "a bad girl breakup album". The album's lead single "Catch My Breath" was released in summer 2010, and reached number-one on the Lashardian singles chart. The album, also titled Catch My Breath, was released in February 2011, and is Janisöpfleg's best performing album. The album spawned four other number-ones, "Throw It Back", "Take Me Away", "Everything Isn't Okay", and "Easy On the Eyes".
Due to its massive success, the album was rereleased in January 2013 as Catch My Breath: The Collection, with six new songs. The rerelease produced the hit singles "Class" and "Hear Me Roar".
2013–present: Spring Cleaning and acting careerEdit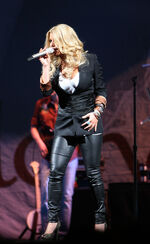 Following the release of The Collection, Janisöpfleg revealed that work on her third studio album is underway. She described the album as "a happy album, celebrating [her] husband and beautiful new daughter." The lead single, "16" was released in March 2014, and peaked at number-one on the Lashardian singles chart. The album, titled Spring Cleaning, was later released in November 2014, and produced the singles "Like No One's Watching", "Perfect", and "The Day".
In winter 2015, Janisöpfleg revealed she'll be taking a brief hiatus from music in order to pursue a career in acting. Her debut feature film Jong & Krastika (Young & Beautiful, in English), was released in 2016. She competed in Mösikalifestivali 2016 along with MegaRotz with the song "Scream & Shout". They placed fifth in their semi-final and were eliminated.
Personal life
Edit
Janisöpfleg was romantically linked to Sox briefly in 2006. She eloped with Lashardian actor Alek Orinösampsen in summer 2008, when she was only 21 years old. They had two children together, Betta (born 2009), and Alek Jr. (born 2010), before divorcing weeks after Alek Jr.'s birth.
Janisöpfleg later began dating Lashardian real estate mogul Hampton Vansöshire in January 2012. They had a daughter together, Kaila, in March 2013. The couple became engaged in December 2013, and married on 1 December 2014. Fraternal twins, Greg and Hanna were born in February 2015. Janisöpfleg currently lives with Vanöshire and her five children in Hoffmann, Ubenmoor.
She holds dual Lashardian and Consensumian citizenship. Regarding her faith, she has stated "Yes I do believe in God, I believe there's a plan for all of us. I'm proud to be a Lashardian Orthodox Christian."
Discography
Edit
Studio albums
Edit
List of studio albums, with selected chart positions, sales figures and certifications
Year
Title
Album details
Peak chart positions
Certifications
LAS
ADR
CON
PES
2008
Olia

Label: Akia Music Group
Format: Digital download, CD, LP

1
6
–
3
2011
Catch My Breath

Label: Akia Music Group
Format: Digital download, CD, LP

1
1
12
1

LAS: 3x platinum
ADR: Platinum
PES: 4x platinum

2013
Catch My Breath: The Collection

Label: Akia Music Group
Format: Digital download, CD, LP

1
4
–
2

LAS: Platinum
ADR: Gold
PES: Platinum

2014
Spring Cleaning

Label: Akia Music Group
Format: Digital download, CD, LP

2
2
10
2

LAS: Platinum
ADR: Platinum
PES: Platinum
List of singles as lead artist, with selected chart positions and certifications, showing year released and album name
Title
Year
Peak chart positions
Certifications
Album
LAS
ADR
CON
PES
"The Kill"
2007
5
19
98
10
Olia
"Love Story"
2008
10
100
–
36
"Fairytale"
42
–
–
95
"Catch My Breath"
2010
1
1
–
1

LAS: 3x platinum
ADR: Platinum
PES: 5x platinum

Catch My Breath
"Throw It Back"
1
7
–
2

LAS: 2x platinum
PES: Platinum

"Take Me Away"
2011
1
18
–
8
"Everything Isn't Okay"
1
68
–
10
"Easy On the Eyes"
2012
1
–
–
7
"Class"
2013
2
10
–
5

LAS: 2x platinum
ADR: Gold
PES: Gold

Catch My Breath: The Collection
"Hear Me Roar"
5
–
–
6

LAS: Platinum
PES: Platinum

"16"
2014
1
18
–
6

LAS: 2x platinum
ADR: Gold
PES: Gold

Spring Cleaning
"Like No One's Watching"
1
1
29
1

LAS: 4x platinum
ADR: 3x platinum
PES: 6x platinum

"Perfect"
2015
9
29
–
15
"The Day"
15
78
–
44
Featured singles
Edit
List of singles as featured artist, with selected chart positions and certifications, showing year released and album name
Title
Year
Peak chart positions
Certifications
Album
LAS
PES
"Scream & Shout"
(MegaRotz featuring Olia Janisöpfleg)
2016
29
–
Mösikalifestivali 2016
Filmography
Edit
Television
Edit
| Year | Title | Role | Notes |
| --- | --- | --- | --- |
| 2016 | Jong & Krastika | Paula Tansöferm | Main role |
In for the Kill Tour (2008–09)
Catch My Breath Tour (2012–14)
Spring Cleaning Tour (2015)
Awards and nominations
Edit
Year
Event
Category
Nominated work
Result
2008
Lashardian Music Awards
Breakout Artist
—
Nominated
2010
LRI Song of the Year
Song of the Year
"Catch My Breath"
Nominated
2011
Lashardian Music Awards
Artist of the Year
—
Won
Best Pop Song
"Catch My Breath"
Won
Best Pop Album
Catch My Breath
Won
Best Female Artist
—
Nominated
Adoriam Music Awards
Best International Female Artist
—
Nominated
Asmatic Music Awards
Best Lashardian Musician
—
Nominated
Song of the Year
"Catch My Breath"
Nominated
2013
Lashardian Music Awards
Best Female Artist
—
Nominated
Artist of the Year
—
Nominated
Best Pop Song
"Class"
Nominated
Best Pop Album
Catch My Breath: The Collection
Nominated
Adoriam Music Awards
Best International Female Artist
—
Nominated
Asmatic Music Awards
Best Lashardian Musician
—
Nominated
2015
Lashardian Music Awards
Best Female Artist
—
Nominated
Artist of the Year
—
Nominated
Best Pop Song
"16"
Nominated
Best Pop Album
Spring Cleaning
Nominated
Adoriam Music Awards
Best International Female Artist
—
Won
Asmatic Music Awards
Best Lashardian Musician
—
Won
Musician of the Year
—
Nominated