Sabina Tomötimosen

Tomötimosen in 2016.
Born
Sabina Tomötimosen
15 March 1985
Ubenmoor, Lashardia
Occupation
Singer, model
Alma mater
Queen Maria's School for the Performing Arts
Spouse
Ash Yalchi (2007–2009)
Hivor Lelupo (2012–present)
Children
Ina Hivorölelupo (b. 2014)
Adam Hivorölelupo (b. 2016)
Musical Career
Genres
Lashpop
Instruments
Vocals
Years active
2004–present
Labels
Cyclops Records
Associated acts
Marlina
Sabina Ira Tomötimosen (born 15 March 1985) is a Lashardian singer, model, and member of the girl group Marlina.
She is arguably the most successful member of Marlina, having two number-one solo albums and seven top ten singles. In 2016, she became a judge on The X Factor: Lashardia, but departed after one season.
Life and career
Edit
Early life
Edit
Tomötimosen was born on 15 March 1985 in the Jorden district of Ubenmoor. Her father Tom was a primary school art teacher while her mother Ina was a former model. She has a younger sister, and the family was middle class.
Tomötimosen attended primary school in Jorden, where she performed well academically and was also popular, being elected prom queen. She later began attending Queen Maria's School for the Performing Arts, graduating in 2003. Following her graduation, she began to pursue a music career.
2004–present: Work with Marlina
Edit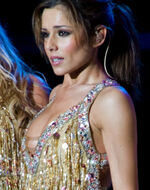 In 2004, Tomötimosen attended an open audition by Cyclops Records for female singers aged 18 to 22, and was subsequently cast in their upcoming girl group Marlina. The group ended up being extremely successful, earning two number-one albums and nine top ten singles in Lashardia. From 2014 to 2015, they performed in a residency show in Kesa. In 2015, they revealed that they have begun work on their third studio album. In 2016, it was confirmed that Tomötimosen would become a judge on The X Factor: Lashardia.
2010–present: Solo career
Edit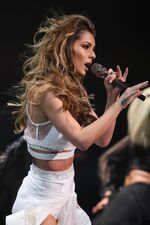 2010–2012: Through My EyesEdit
Shortly after the announcement of Marlina's hiatus, Tomötimosen revealed that she had a solo album in the works and that her debut solo single would be released soon. The lead single, "Around the World", was released in September 2010. The song was primarily Lashpop, but saw a strong influence from 80s pop. It was a massive success, reaching the top ten in six countries.
Her debut studio album, Through My Eyes, was later released in December 2010. The album was a large success, peaking at number-one in Lashardia, Adoriam, Sodrax, Pesa, and Zakharia. The album was eclectic in style, while primarily Lashpop, it also had songs inspired by 80s pop, electropop, Lashardian hip hop, chill-out music, and R&B. It also produced the hit singles "Leave Me Alone", "Love at First Sight", and "I'll Never Get Over You".
2012–2014: 5 StarsEdit
After the success experienced by her first album, Tomötimosen began work on her second solo studio album. In a 2012 interview, she stated "I can't wait until Marlina gets back together, but during our hiatus my solo career is the number-one priority. With the new album, things are definitely sounding more pop, but we still have more songs to record and I've always been a fan of surprises".
She released the lead single to her upcoming album, "5 Stars", in January 2013. The song was a huge success, achieving similar feats as her previous releases. The album of the same name was later released in autumn 2013. It also contained the hit singles "I Do" and "I Want You (To Leave)". After Marlina reformed, she announced that she'd be going on a hiatus as a solo artist.
Personal life
Edit
In 2007, Tomötimosen married Pesan footballer Ash Yalchi. She later filed for divorce in 2009, citing irreconcilable differences. In a 2014 interview, she stated that she suffered extreme domestic abuse at the hands of Yalchi, being sent to the hospital by him in one instance, and that it was the other members of Marlina that persuaded her to file for divorce.
In December 2012, she married Rentuscan lawyer Hivor Lelupo. They have two children together, Ina, born in February 2014, and Adam, born in January 2016. The family resides in the Breż district of Ubenmoor for most of the year, but also owns property in Cavarda, Rentusca where they spend their summers.
Discography
Edit
See also: Marlina#Discography.

Studio albums
Edit
List of studio albums, with selected chart positions, sales figures and certifications
Year
Title
Album details
Peak chart positions
Certifications
LAS
ADR
CON
SOD
PES
ZAK
2010
Through My Eyes

Label: Cyclops Records
Format: Digital download, CD, LP

1
1
2
1
1
1

LAS: 2x platinum
ADR: Platinum
CON: Gold
SOD: Platinum
PES: 2x platinum

2013
Five Stars

Label: Cyclops Records
Format: Digital download, CD, LP

1
1
1
1
1
1

LAS: 3x platinum
ADR: Platinum
CON: Platinum
SOD: 2x platinum
PES: Diamond
List of singles as lead artist, with selected chart positions and certifications, showing year released and album name
Title
Year
Peak chart positions
Certifications
Album
LAS
ADR
CON
SOD
PES
ZAK
"Around the World"
2010
1
1
1
1
1
1

LAS: Diamond
ADR: 4x platinum
CON: Platinum
SOD: 4x platinum
PES: 6x platinum

Through My Eyes
"Leave Me Alone"
2011
6
10
18
10
3
7

LAS: Platinum
ADR: Gold
SOD: Gold
PES: 2x platinum

"Love at First Sight"
3
7
10
2
1
5

LAS: 2x platinum
ADR: Platinum
CON: Gold
SOD: 2x platinum
PES: 3x platinum

"I'll Never Get Over You"
1
2
12
1
1
1

LAS: 3x platinum
ADR: Platinum
SOD: 3x platinum
PES: 4x platinum

"5 Stars"
2013
1
1
3
2
1
2

LAS: 4x platinum
ADR: 3x platinum
CON: Platinum
SOD: 2x platinum
PES: 4x platinum

5 Stars
"I Do"
2
8
63
2
1
1

LAS: 3x platinum
ADR: Gold
SOD: 2x platinum
PES: 4x platinum

"I Want You (To Leave)"
5
16
67
10
3
10

LAS: Platinum
SOD: Gold
PES: 3x platinum
Awards and nominations
Edit
Year
Event
Category
Nominated work
Result
2010
Lashardian Music Awards
Breakout Artist
–
Won
Best Pop Song
"Around the World"
Nominated
Best Pop Album
Through My Eyes
Nominated
Best Female Artist
–
Nominated
Artist of the Year
–
Nominated
Adoriam Music Awards
Best International Female Artist
–
Nominated
Asmatic Music Awards
Best Lashardian Musician
–
Nominated
LRI Song of the Year
Song of the Year
"Around the World"
Won
2011
LRI Song of the Year
Song of the Year
"I'll Never Get Over You"
Nominated
2013
Lashardian Music Awards
Best Pop Song
"5 Stars"
Won
Best Pop Album
5 Stars
Won
Best Female Artist
–
Nominated
Artist of the Year
–
Nominated
Adoriam Music Awards
Best International Female Artist
–
Nominated
Asmatic Music Awards
Best Lashardian Musician
–
Nominated