Wolfeblood

Wolfeblood performing in 2014.
Born
Maksim Borisöflicel
31 December 1985
Boras, Lashardia
Occupation
Singer, songwriter, record producer
Spouse
Aurora Jonöbenhardt (2012–present)
Children
Jeffa Maksimöflicel (b. 2016)
Musical Career
Genres
Indie pop, alternative rock, dream pop, trip hop, indie rock
Instruments
Vocals, guitar, drums, piano
Years active
2007–present
Labels
Love In Stereo
Associated acts
Aurora Jonöbenhardt, Sox, Ina, Pal Nigtöfoor
Maksim Josef Borisöflicel (born 31 December 1985), better known by his stage name Wolfeblood, is a Lashardian singer, songwriter, and record producer.
Wolfeblood began his music career under his birth name Maksim Borisöflicel as the lead singer of indie pop band Dreamer's Wind. After the band's split in 2010, he began a solo career and was signed to Love In Stereo Records.
He released his debut studio album, The Big Bad Wolfe in 2012 to critical and commercial acclaim. The album's singles "Strong", "Boys and Girls", and "Playing With Fire". were commercial and critical successes as well. His second studio album Storybook Avenue was released in 2014.
Life and career
Edit
Early life
Edit
Wolfeblood was born as Maksim Borisöflicel on 31 December 1985 in Boras, Palsland. His father Boris was a high school Lashardian teacher while his mother Matelda was a primary school teacher. He has an older sister, Emilia, and a younger brother, Olaf. The family was middle class.
He attended primary school in Boras, graduating in 2000. He went on to attend a social sciences high school with a specialization in economics. Wolfeblood graduated from high school in 2003, and moved to Ubenmoor to attend the Lashardian International University. He graduated with a degree in economics in 2007. It was at university where Dreamer's Wind was formed.
2007–2010: Work with Dreamer's Wind
Edit
Following his graduation from university, he began studying for a master's degree while performing with Dreamer's Wind part-time. In 2008, he dropped out of graduate school to work with the band full-time. They were signed to Blanket Records Lashardia later that year and began work on their debut studio album.
The group's self-titled debut album was released in 2009, and despite being a critical success, was a commercial failure. The singles, "Hero", "Ignorance", and "Monsters" were commercial failures as well. Following internal disputes, the band was dropped from their label in 2010 and later disbanded.
2010–2013: Solo work and The Big Bad WolfeEdit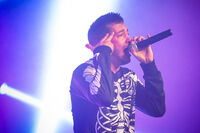 Following the breakup of Dreamer's Wind, Borisöflicel was signed to popular alternative label Love In Stereo Records and rebranded himself as Wolfeblood. While speaking about his stage name, he stated "I was partly inspired by fairytales, with Goldilocks and Little Red Riding Hood and all. There was something about them that was creepy yet also really cool and I just loved it."
He released the lead single to his debut album, "Strong" in 2011. The song was a commercial success, reaching the Top 10 in three countries. The album, titled The Big Bad Wolfe, was released the following year. It spawned the singles "Boys and Girls" and "Playing With Fire".
2013–present: Storybook AvenueEdit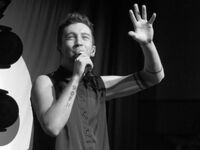 In 2013, Wolfeblood revealed that work on his second solo album was about three-quarters complete. The album's lead single "Misguided Ghosts", was released later in the year. The song was very successful, reaching number-one in Lashardia and Adoriam and peaking within the Top 5 of Pesa.
His second studio album, titled Storybook Avenue, was released the following year in 2014. The album was a smash success, reaching number-one in three countries. It also produced the hit singles "Magic" and "Losing Grip".
Personal life
Edit
Wolfeblood began dating singer and songwriter Aurora Jonöbenhardt in 2007, after meeting and writing music together. They got engaged in 2011 and were married in winter 2012. The couple currently resides together in Flastland, Ubenmoor. She gave birth to their first child, a daughter, Jeffa, in April 2016. They are close friends with Sox and Ina, and have collaborated with them frequently.
Discography
Edit
Studio albums
Edit
List of studio albums, with selected chart positions, sales figures and certifications
Year
Title
Album details
Peak chart positions
Certifications
LAS
ADR
PES
2012
The Big Bad Wolfe

Label: Love In Stereo
Format: Digital download, CD, LP

3
2
4

LAS: Platinum
ADR: 2x platinum
PES: Gold

2014
Storybook Avenue

Label: Love In Stereo
Format: Digital download, CD, LP

1
1
1

LAS: 3x platinum
ADR: 5x platinum
PES: 3x platinum
List of singles as lead artist, with selected chart positions and certifications, showing year released and album name
Title
Year
Peak chart positions
Certifications
Album
LAS
ADR
PES
"Strong"
2011
7
5
9

LAS: Platinum
ADR: Platinum
PES: Platinum

The Big Bad Wolfe
"Boys and Girls"
2012
10
6
19
"Playing With Fire"
12
10
52
"Misguided Ghosts"
2013
1
1
4

LAS: 3x platinum
ADR: 4x platinum
PES: Gold

Storybook Avenue
"Magic"
2014
6
4
12
"Losing Grup"
19
10
28
Awards and nominations
Edit
Year
Event
Category
Nominated work
Result
2012
Lashardian Music Awards
Breakout Artist
–
Won
Best Alternative Song
"Strong"
Won
Best Alternative Album
The Big Bad Wolfe
Won
Adoriam Music Awards
Best International Male Artist
–
Won
2014
Lashardian Music Awards
Best Male Artist
–
Won
Best Alternative Song
"Misguided Ghosts"
Won
Best Alternative Album
Storybook Avenue
Won
Artist of the Year
–
Nominated
Adoriam Music Awards
Best International Male Artist
–
Won